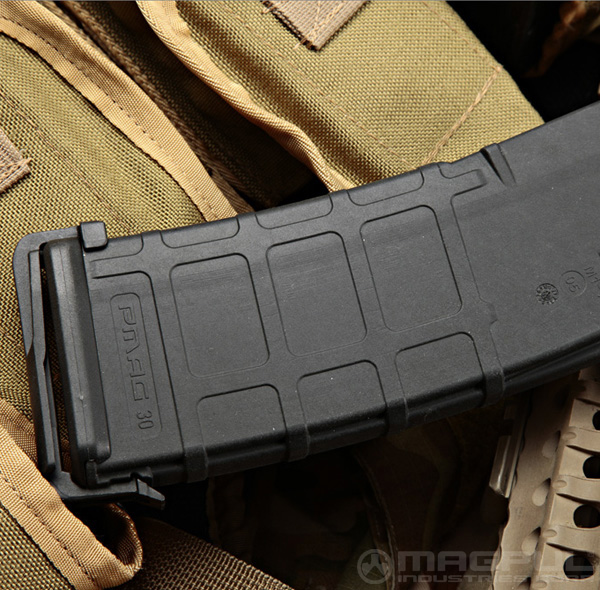 In early 2007 Magpul announced the PMAG 30-round 5.56 NATO Polymer MAGazine for AR15/M16 platform weapons. With millions fielded to military, law enforcement, and commercial users, PMAGs have become the de facto standard for magazine reliability and durability. Magpul continues to improve existing products and expand the PMAG line to include new calibers and weapon systems.
The PMAG is a lightweight 5.56x45 NATO (.223 Remington) AR15/M16 compatible magazine. It features an advanced impact resistant polymer construction, a pop-off Impact/Dust Cover for storage, and an easy to disassemble design with a flared floorplate for positive magazine extraction from pouches. The PMAG 30 utilizes a resilient stainless steel spring for corrosion resistance and a anti-tilt, self-lubricating follower for increased reliability.
The PMAG MagLevel features transparent windows on both sides of the body and has a painted indicator on the spring for quick determination of approximate rounds remaining in the magazine.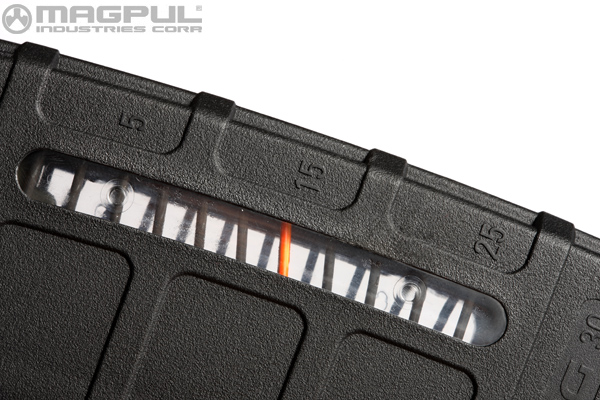 The latest revision has been updated with a new body ribbing design which allows for better compatibility with aftermarket mag couplers, a new follower which gives even smoother loading with military stripper clips, and the Impact/Dust Cover can now be snapped onto the floorplate when not in use to prevent possible loss. Along with larger windows and round count numbers on the body, the PMAG MagLevel's stainless steel magazine spring is now coated with mil-spec black oxide and the indicator coil painted with a high visibility orange color.
Made in U.S.A.
Features:
•Impact and crush resistant polymer construction
•Constant-curve internal geometry for smooth feeding
•Anti-tilt, self-lubricating follower for increased reliability
•Multi-use Impact/Dust Cover keeps dust and dirt out of the magazine during storage and protects the feedlips from potential hard impact damage during transit
•USGI-spec stainless steel spring for corrosion resistance and field compatibility
•Textured gripping surface and flared floorplate for positive magazine handling and easy disassembly
Additional PMAG Maglevel Features:
•Black-oxide coated (MIL-DTL-13924D) USGI-spec stainless steel spring
•Transparent windows on both sides of the PMAG MagLevel along with a painted indicator on the spring allows for easy determination of rounds remaining
Available Colors:
Black
Flat Dark Earth
OD Green
Foliage Green
Available Models/Variants:
* PMAG 30, 5.56x45 Magazine – AR15/M16
* PMAG 30 MagLevel™, 5.56x45 Magazine – AR15/M16
* PMAG 20, 5.56x45 Magazine – AR15/M16
* EMAG 30 MagLevel™, 5.56x45 Magazine – STANAG
* PMAG 30G MagLevel™, 5.56x45 Magazine – HK G36
* PMAG 20LR, 7.62x51 Magazine – SR25/M110
http://store.magpul.com/prod_detail_list/2